Ontario Artists' Legal Access & Support Network Presents:
"Just Between Us: Advice for Artists by Artists"
"Just Between Us: Advice for Artists by Artists" is a nine-part virtual series based in arts advocacy and community care. Presented by the Ontario Artists' Legal Access & Support Network and directed by Imani Dominique, this Instagram and TikTok based series aims to inform and empower other artists with tools for self-advocacy. "Just Between Us: Advice for Artists by Artists",  embodies the spirit of "each one teach one" by pooling and amplifying knowledge from nine incredible Canadian artists: Alicia Reid, Anthony Gebrehiwot, Daej Hamilton, Dequiera Atherton, Gerda Boateng, Kaya Joan, Nala Haileselassie, Pauline Nguyen, and Selina Mccallum. The artists' practices span across artistic disciplines, including photography, film, woodworking, writing, curation, illustration, motion design, and public art. Throughout the series, the artists share lessons learned, advice for other creatives, and insight into their artistic practices.
Episode One: Just Between Us: Advice for Artists by Artists with Nala Haileselassie
Just between us, are you a self-taught artist? How have you navigated the art world? What do you wish you knew when you started out? 
We all have moments where we wish we had known better. Regardless of how things turned out, it's always helpful to share our experiences. By doing so, we can build networks of community care and support. In this video, Nala Haileselassie shares her advice for artists navigating the industry along with some tips for self-teaching. 
Nala Haileselassie is a multidisciplinary artist from Toronto, CA whose practice spans across video, printmaking, and illustration.
Episode Two: Just Between Us: Advice for Artists by Artists with Daej Hamilton
Just between us, how do you determine the value of your artwork? 
There are often numerous factors to take into consideration when it comes to pricing your work. Knowing your worth takes time but always remember that you should feel intrinsically affirmed by what you decide. Never forget that "your work matters!". In this video, Daej Hamilton shares her advice for artists when it comes to negotiating your prices. 
Based in Toronto, founder, and principal designer, Daej Hamilton started this company at 22 years old. Luxuriating in her 11th year of woodworking, her pieces reflect the timeless, mid-century, modern aesthetic. Using some of the finest woods, her work is designed and hand-crafted to complement form and function.
Episode Three: Just Between Us: Advice for Artists by Artists with Pauline Nguyen
Just between us, have you heard of the term "informed consent"? What about in the context of creative collaboration and/or labor? If not, this video is for you!
When navigating creative collaborations, it is critical that everyone involved clearly understands the terms of their agreement. This can help reduce the odds of conflict occurring down the road and can ensure that the collaboration runs smoothly. In this video, Pauline Nguyen introduces the concept of "informed consent" and emphasizes its importance when facilitating events and working collaboratively with artists.
Pauline Nguyen's creative practice is based in 35mm film photography and community/public arts engagement. Much of their ongoing photo work consists of explorations of spacetime, care, and orientations towards the world and others. 
Episode Four: Just Between Us: Advice for Artists by Artists with Anthony Gebrehiwot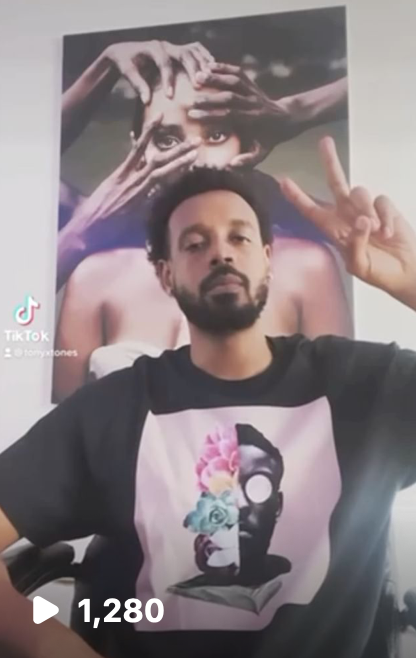 Just between us, we've all been on the receiving end of a late payment. But what happens when you're a freelance artist and have yet to receive numerous payments? Anthony Gebrehiwot shares his thoughts on the importance of paying artists on time. 
Anthony Gebrehiwot is an award-winning visual artist, photographer and community leader whose creative lens re-visions photography as an ongoing dialogue of social change between subject and society. 
A self-taught artist and photographer, Gebrehiwot founded XvXy-photo in 2014 focusing on studio portraiture. To date, he has worked with several notable brands such as Nike, Royal Bank of Canada, Vice Canada, Absolute, Hudson Bay, The City of Toronto and Linkedin to name a few. His work has been featured in over thirty local and international publications such as the Star, the Globe and Mail, PAPER Magazine, Elle UK and Yahoo Lifestyle.
Episode Five: Just Between Us: Advice for Artists by Artists with Selina Mccallum
Just between us, when working with brands or doing a private commission, it's important to accurately calculate your artist fee.
An artist fee is the amount of money that you would like to be paid after expenses are covered. However, when numbers start to add up and your overall price begins to escalate, presenting your final quote to a client can feel daunting. How can artists overcome this obstacle? In this video, Selina Mcallum shares advice for determining your artist fee and shares how knowing your worth can be your most valuable negotiation tactic.
Selina McCallum was born and raised in Toronto, Ontario by her Tanzanian mother and Jamaican father. She started her own photography and videography business called Shot By Selina in 2016. Selina graduated from the University of Windsor with a double degree in Digital Journalism and Communications, Media and Film in May 2019. She is currently freelancing in videography and photography as well as enhancing her digital skills by taking an intensive course in VFX.
Episode Six: Just Between Us: Advice for Artists by Artists with Dequiera Atherton
Just between us, have you ever collaborated with another artist? If so, what were some of the things you enjoyed about the experience? Is there anything you would change?
Artist collaborations are an important part of building community and creating incredible work. Creating with other artists can help expand your skillset and your perspective. In this video, Dequiera Atherton shares advice for collaborating with other artists to create amazing work and share experiences.
Dequiera Atherton also known as Cozy DQ is an artist that likes to experiment with different digital mediums. She started off with graphic design, illustration, and then migrated to photography. Now she is currently working on commercial finishing, motion design, and VFX.
Episode Seven: Just Between Us: Advice for Artists by Artists with Kaya Joan
Just between us, do you know how to establish the grounds of a working relationship? 
Knowing and establishing your boundaries are so important when building relationships. When you  establish parameters for working relationships and have these agreements in writing, you can better enforce your rights and self-advocate down the line. In this video, Kaya Joan shares advice for navigating unfair power dynamics and trusting your intuition. 
Kaya Joan is a multi-disciplinary Afro-Indigenous (Vincentian, Kanien'kehá:ka with relations from Kahnawá:ke, Irish, Jamaican) artist born, raised and living in T'karonto, Dish with One Spoon treaty territory. Kaya's work focuses on relationship to place and storytelling. Black and Indigenous futurity are also centered in Kaya's practice, framing methods of making as ancestral tools to unpack and transform buried truths, opening portals 7 generations into the past and future. Kaya has been working in community arts for 7 years as a facilitator and artist, and is a member of Milkweed Collective. 
Episode Eight: Just Between Us: Advice for Artists by Artists with Alicia Reid
Just between us, have you ever used a photo release form?
When sharing work that uses the likeness of another individual, it's necessary to use a photo release form, media release, or model release agreement. These forms allow you to use their image in your artwork and protects you from potential legal issues in the future. If you would like to create a release form, we encourage you to visit carfacontario.ca to find contract templates. In this video, Alicia Reid shares when and why you should  create a photo release form.
Alicia Reid is a Jamaican-Canadian Prize-winning photographer and aspiring filmmaker based in Toronto. Born and raised in Scarborough, her work is inspired by Caribbean and Toronto culture as she loves sharing moments that highlight people of colour. Specializing in events and concert photography, she has been doing photography for over 5 years and has been featured on media outlets including the Toronto Star, Global News and Complex Music. Her purpose as an artist is to create a positive outlook to be shown in the city especially towards people in marginalized communities and her goal is to continue to change the narrative of places in the city that are often misrepresented.
Episode Nine: Just Between Us: Advice for Artists by Artists with Gerda Boateng
Just between us, how do you protect your artwork?
When creating and sharing your work, it is so important to ensure that you are protected. While your rights to your work are already protected through Canadian copyright laws, it can be difficult to protect your work from digital theft. Watermarks and signatures, and logos are great ways to let people know that you own your work. If you would like to learn more about copyright and other forms of artistic protection, we encourage you to visit carfacontario.ca. In this video, Gerda Boateng shares valuable tips for protecting your artwork from theft. 
Gerda Boateng is a Ghanaian Canadian, multi-disciplinary creative. The goal of her work is to showcase unconventional standards of beauty. More specifically, to show women of colour they are art too.  With her Bachelors in Design from OCAD university Gerda has a thorough understanding of how consumers think in regards to brands, products, and art. Gerda's Mission is to continue to move the conversation of representation forward by designing creative concepts, showing that the idea of beauty is way more than skin deep. She hopes to motivate people to look at themselves as art, and inspire them to truly love themselves from the inside out!
"Just Between Us: Advice For Artists by Artists" premiered on August 11, 2022 via Instagram and TikTok. Since its initial release, it has reached thousands of people across platforms. Each One Teach One.
The Ontario Artists' Legal Access & Support Network is a collaboration between CARFAC Ontario artists and ALAS (Artists' Legal Advice Services) lawyers. This collaboration has been formed to provide free legal advice and information, non-legal peer support, and resources for artists related to their practices, particularly artists who lack access to these kinds of support because of overlapping systemic barriers such as racism, homophobia, transphobia, and/or misogyny. CARFAC Ontario is dedicated to promoting the wellbeing of  Ontario's visual artists, and advancing the visual arts as a practice. ALAS (Artists' Legal Advice Services) provides free summary legal advice and information to creators living in Ontario, Canada. With services spanning from contract templates to drop-in legal clinics, both organizations work to create and disseminate legal resources for artists. 
Imani Dominique Busby is an independent curator and visual artist based in Toronto. She is presently studying Creative Industries at Toronto Metropolitan University. She aspires to become a curator and art lawyer with the goal of supporting marginalized artists as they navigate the art industry. With roots in creativity and entrepreneurship,  Imani is passionate about the art and fashion industries, representation, and community building.